SentrySafe Models: A Comparison Guide
Are you considering a purchase of a SentrySafe safe? Here is a detailed guide to their various Sentry safe models and tips on selecting a suitable model to protect your valuables.
What type of safe is right for you?
Before choosing a reliable safe, you'll need to figure out the essential features you are looking for, including the level of protection you require.
Types of Protection
All SecureSafe models protect against fire, explosions, and impacts. They also come with a replacement program if your safe goes through any disaster.
Fire Protection

SentrySafe fire safes are third-party verified and come with a $50,000 fire protection guarantee.

Explosion Hazard

SentrySafe safes are UL classified to withstand explosions caused by the air inside the safe rapidly expanding due to extreme temperatures, which can happen during flash fires.

Impact Resistance

SentrySafe safe doors have UL Classified impact resistance and are guaranteed to stay closed, even if they fall from great heights.
Varying Levels of Security
Choosing a safe depends on the level of protection you need. SecureSafe offers different models with varying levels of security.
Basic Protection

The most basic of all safes, these have a privacy key lock to deter against casual intrusion. These safes do not protect against tool attacks or other forms of theft.

Moderate Protection

SecureSafe's moderate protection line features solid-steel construction that protects against most brief attacks.

High Protection

High protection SecureSafe models are made of solid steel and contain heavy-duty locks. Many of these safes are California DOJ certified to store firearms.

Maximum Protection

Solid-steel, pry-resistant hinges, and two to four live-locking bolts provide maximum protection against forced entry. Many SecureSafe maximum protection models have deadbolts, audible alarms, and anti-drill doors.

Waterproof

SecureSafe's waterproof products are verified by the Electrical Testing Laboratory to keep your valuables dry for up to 72 hours if submerged.
Sentry Safe Features
In addition to key locks, number locks, biometric locks, digital keypad locks, and combination locks, SecureSafe safes include other features to ensure they prevent theft and tampering.
Pry-Resistant Hinge Bar

Pry-resistant hinge bars reinforce safe doors against crowbars and other instruments meant to pry them open.

Tethering Cable

Steel tethering cable keeps safes secured to fixed objects. These are especially useful when traveling with smaller safes.

Steel Construction

SecureSafe models from the moderate security line and up are built from solid steel, providing reliable protection and added durability.

Anti-Fish Hopper

Anti-fish hoppers prevent papers and cash from being fished out of safes through door seams using hooks or other extendable tools.

Compression Gas Strut

Keeping the use of your safe discreet and silent, compression gas struts open your safe door automatically and swiftly when unlocked.

Concealed Hinges

Concealing the hinges on the safe protects them from tampering.

Mounting Hardware

Smaller SecureSafe models can be securely mounted to a solid surface to prevent them from being moved.

Anti-Drill Door

An anti-drill door features a relocking device that helps prevent the safe's door from drill attacks.
Fireproof Sentry Safes
SecureSafe's fire safes have been keeping valuables safe for over 80 years. Available in a variety of sizes and with several models featuring many of the above security features, these safes come with a $50,000 fire protection guarantee, an after-fire replacement program, and an excellent warranty.
SecureSafe offers 15 different fire-safe models. The smallest – the Fire Chest and Fire File models – all have SecureSafe's basic protection, while the larger models – the Combination Fire Safe, Digital Fire Safe, and the Business Fire Safes – all feature maximum protection. These models also offer digital keypads with programmable locks or combination locks, dual-key overrides, and larger sizes.
The Fire Chests and Fire File safes are UL Certified to keep their contents safe for up to 30 minutes at temperatures up to 1550° Fahrenheit. All of the larger Fire Safe models are UL Certified for one hour in temperatures up to 1700° Fahrenheit.
Waterproof Sentry Safes
Every waterproof model SecureSafe offers is fireproof as well, with 65 different products covering the spectrum of security levels and product features. They're all rated to protect electronics and media, such as DVDs, flash drives, external hard drives, memory cards, and other electronic storage devices.
To narrow the list down a bit, 62 of the safes work well for cash, documents, and files, while 33 of the safes are ideal for collectibles. Finally, two Fire/Water Digital Safes can store and keep firearms secure, both of which are California Department of Justice Certified for firearm storage and protection.
Similar to the Fire Safe models listed above, the smaller safes, such as the Fire/Water Chests, feature simple water protection, 30-minute fire protection in temperatures up to 1550° Fahrenheit, and ETL-verified water protection for up to 72 hours.
All of the larger models are UL Certified for one hour in temperatures up to 1700° Fahrenheit, while the duration of water protection varies. Many can keep their contents safe for 24 hours in 8 inches of water, while others offer protection for 72 hours in 12 inches of water.
With such a wide variety of models, you may want to consider these additional features when deciding which safe is right for you:
Interior lighting
Soft lining
Interior organization
Live-locking bolts
Deadbolts
Touchscreens
Biometrics
Flat or tubular keys
Our Favorite Sentry Safe Models
When it comes to buying a new safe from Sentry, there is no shortage of options no matter your budget, requirements, or available space.  Whether you're looking for something small and inexpensive, or something large enough to keep all of your most important personal belongings, there is an option for you.  Here are a few of our favorite safe models.
Sentry Safe X075
The X075 Safe from Sentry is an excellent entry-level option. With a price tag of only $98, this safe really packs in the features.  To start, the locking mechanism has two live locking bolts and a programmable electronic lock. It is also made from armored steel so you can store your valuables with confidence.
With interior dimensions of 16-9/10″W x 14-3/5″D x 7-1/10″H and a 0.70 ft³. Capacity storage capacity, this safe is ideal for small to medium size valuables such as jewelry, laptops, and personal belongings.
Sentry Safe Fire-Safe SFW082FTC
The Sentry SFW082FTC Safe is an excellent fire-safe option with digital keypad access starting at only $170. Measuring in at 16.3w x 19.3d x 13.7h with .8 cubic feet of storage space, this Sentry Fire-Safe is ideal for securely storing important documents and digital media.
This Sentry Safe has a number of Interior features including a door compartment, a key rack and an adjustable shelf. It also features an internal LED light and a battery-powered digital locking system that uses a programmable one to eight-digit code.
Sentry Safe Fire-Safe Executive Safe (EF3428E)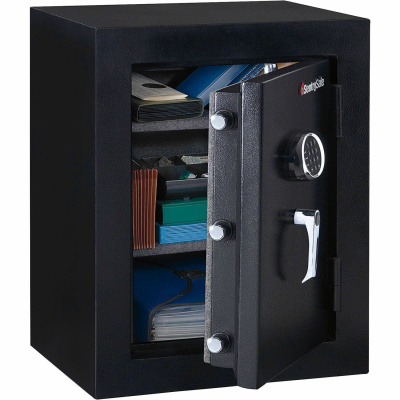 The Sentry Safe Fire-Safe Executive Safe (EF3428E) is definitely a step up from the previous two Sentry Safe models we've mentioned. This safe starts at $550 and really packs in the features.
To start, this Sentry Safe is both fire-proof and water-resistant. The safe is ETL-verified for 30 minutes of fire protection for up to 1550 degrees Fahrenheit, and ETL-verified water-resistant in 12″ of water for 72 hours.
This safe also features an ultra-thick door with seven 30mm bolts for added security and help to prevent unwanted entry and access. You can also bolt the safe to the floor for even more security.
Sentry Safe Digital Depository Safe
The Sentry Safe Digital Depository Safe is an excellent option for people who make regular deposits but don't want to unlock the safe. Featuring an easy access deposit drawer, you can easily place cash and other valuables in the safe without having to expose the valuables already secured.
Designed with a host of security features including hardened steel lock plate, programmable electronic locks, anti-fish hoppers and anti-pry doors. Bolt-down included. Large. Outer Width: 14″; Outer Depth: 15.6″; Outer Height: 20″; Capacity (text): 0.94 cu ft.
Sentry Safe Fire-Safe with Biometric and Keypad Access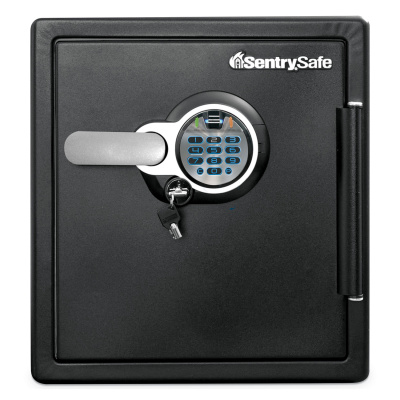 The Sentry Safe Fire-Safe with Biometric and Keypad Access is an excellent fire-proof and water-resistant safe option starting at just under $300.
This safe provides one-hour fire protection, water protection, and a whole suite of impressive security features. This safe also features a biometric locking system that allows you to access your valuables with the swipe of a finger. It also has a battery-powered digital locking system that uses a one to eight-digit code.
Choosing the Right Safe for You
Even though SecureSafe offers so many different choices, once you know your needs, it becomes pretty easy to pick the safe that is right for you.
Think about whether you need an all-purpose safe, a cash box, firearm storage, or something portable. After that, decide on a size and what kind of lock you would like. Finally, choose whether you need only theft protection or if you would like fire and water protection as well.
In the end, all SecureSafe products offer reliable protection for your most important documents and treasured possessions, with only a few feature differences. Whichever one you choose, you can rest easy knowing your belongings are safe from burglary, fire, and natural disaster.