Logitech C920 Webcam Review
The Logitech C920 is proof that you don't have to empty your bank account for a quality webcam. Nowadays, having a webcam is almost a necessity, whether it's for important business meetings, casual twitch streams, or catching up with your family and friends.
Given its low price point and uncompromising performance, there's a reason why the Logitech HD Pro Webcam C920 has been the go-to unit since its release eight years ago. Many know this model for its surprisingly good picture quality and sturdy build, amongst other features, but do they still hold up in 2020?
We'll go through each of the C920's great features as well as the areas it could use some improvement. Let's get started!
Logitech Camera C920 Features
Logitech C920 Design
What we love most about the Logitech C920 is its simple yet effective build. Even after almost a decade, it still stands out as one of the best offerings on the market. Granted, it doesn't have anything to brag about in the looks department, but it's very well designed in terms of practicality.
General Build
The model's covering uses a black, durable plastic that can endure most impacts, while the lens features a scratch-resistant glass panel. The C920 might be a bit chunky compared to newer, sleeker models, but keep in mind that it houses a lot of components:
1080 camera
Two LEDs
Two Microphones
You'll find a regular 6-foot cord at the back of the webcam, which should be long enough to connect the unit to a nearby USB port.
Versatility
You can attach the camera to your laptop's lid or the back of your monitor with its built-in clip. The C920 features a rubber foot for holding the unit in place and a hinge for adjusting the clip's reach. The clip also works as a decent stand if you want to set it on another surface.
The stand's underside comes with a standard tripod mount, which is useful if you want a steadier platform. However, we wish the stand was detachable to improve its portability.
Setup Your C920
Setting up the C920 is a quick and straightforward process. Just plug in the cord to the appropriate socket, and you're good to go. This model is the best option if you want something that can be plugged in quickly for an impromptu online hangout with your friends or family. If you can spare a few minutes, you have the option of tweaking the software settings to get a better image.
Logitech C920 Picture Quality
General Performance
The difference is night and day if you compare the C920 with most built-in laptop cameras. Even in undesirable lighting conditions, the camera manages to capture clear, detailed images with excellent color accuracy. Under well-lit environments, you can see a higher level of detail, such as the stitching on fabric or even the individual hairs on your head!
C920 Video Resolution
Video-chatting at 1080p resolution (Full HD) is possible with the C920, but keep in mind that Mac Facetime users can only support up to 720p. When recording videos, the lighting and color-accuracy take a slight hit, but the detail level remains the same.
Field of View
With a 78o field of view, you can easily fit two persons or a large object in the frame, while most built-in cameras can only view one person. If you want an increased field of view, the C930 might be more up your alley. It features a 90o field of view, but it has lower color accuracy. Light colors will look a bit more vibrant, which isn't too much of a deal-breaker, especially if you prefer deeper, brighter hues.
Image Correction
Thanks to Logitech's RightLight 2 technology, the C920 webcam can still provide high-quality images even in dim environments. RightLight 2 will automatically adjust the color, contrast, and brightness settings once it detects the light levels. Based on our tests, Logitech's algorithm holds up well in various conditions.
With that said, it didn't meet our expectations for all of our image quality tests. While it performs impressively for color and detail, the auto white balance looks off in certain situations. The auto-calibration creates a blue tint for a more cold-toned image. The color also gets a little distorted where red hues look more magenta, and these inaccuracies can worsen as the light levels get lower.
If you want the best image correction, you should check out the Logitech Brio if you're willing to shell out a couple more bucks. Compared to the C920, the Brio is brighter under similar lighting conditions, which is perfect if you plan to use it in darker environments.
Logitech C920 Sound Quality
General Performance
This is one area where the C920 falls short. Even if it is the worst aspect of this model, it should be sufficient for casual video chatting. However, if you're a professional streamer or an online teacher, you might want to invest in a separate microphone.
Fortunately, there are plenty of quality microphone models on the market that won't cost you much – like the Razer Seiren. Even with its lower price point, you'll get excellent clarity, bright recording quality, and a quick, fuss-free setup.
Noise Cancellation
The C920 HD Pro webcam has two microphones, and both do a good job of picking up the user's voice. However, it's not great at blocking out ambient noise. Don't worry, though, since your voice will still likely be audible in most cases.
If you think that your environment might be too chaotic, consider going for the C930 instead, as it comes with better noise cancellation.
Audio Quality
Back to the C920's built-in microphone, the audio is relatively loud and clear, but it can sound a bit flat at times, and voices can sound "scratchy" and "tinny." It's pretty much like your average laptop's microphone, making it merely passable.
Logitech C920 Software
General Performance
The C920 HD Pro Software still holds up well considering its age and offers a lot of functionality. You can manually adjust most general video settings, but the program might feel a bit slow and buggy at times.
Slider Settings
Users can manually customize the contrast, brightness, white balance, and color intensity of your pictures with the Logitech C920 HD software. Specifically, the white balance function is handy since its auto-calibration can be slightly problematic.
You have the option of completely turning off the automated changes of each setting, but we don't advise doing so. You'd have to use the sliders every time your environment changes, such as if you move from a dark to a bright room.
The Logitech C920 HD Pro also lets users zoom the camera in and out and even pan it left and right. Depending on your setup, you'll likely only have to use this once, but anyone who uses their camera in different places will appreciate this added functionality.
Additional Features
The Logitech Webcam C920 comes with avatars and backgrounds to add some fun customization while you're video conferencing. If you want to use a separate background replacement software, check out ChromaCam. While this tool doesn't officially support C920's, it still performed wonderfully when we tested it.
One other slightly niche feature of this Logitech webcam is its motion-detection mode, which can prove useful if you want a "security cam" for your desk.
Compatibility
The Logitech C920 pro webcam is compatible with Logitech's Webcam Software for Windows. The company touts support for Mac OS X, Chrome OS, and Android, but those operating systems don't offer this program.
The Final Verdict
The Logitech C920 HD Webcam is an excellent model that will satisfy the needs of most users. It offers great value for your money and gives a reliable, well-rounded performance in the most critical areas.
What we love most about the Logitech C920 Pro is its ability to take clear and detailed videos and photos, making it suitable for both streaming and teleconferencing. It's also easy to set up for both laptop screens and external monitors.
A few drawbacks include the slightly dated software and subpar audio, but other than that, this might be the affordable unit that checks all your boxes.
Logitech C920 Alternatives
Logitech C920 vs. Brio
The C920 is fully capable of producing sharp videos and images, even under less-than-ideal lighting conditions. In fact, it performs slightly better than the Brio when in low light. However, the Brio, in general, provides a clearer feed.
The Brio comes with a wide 90o field of view plus the latest RealLight software with HDR technology, giving it the upper hand in video and picture quality. It can even provide resolution, but you can only find a few compatible tools capable of supporting it.
In terms of audio quality, the Brio uses dual Omni-directional mics that are clear as day. If your setup has limited space, the high-quality built-in microphone means you won't have to get a separate unit that will add to the clutter.
One minor downside is this model's arm isn't as sturdy as the C920's. If you're willing to spend a bit more for overall better performance, the Brio might be a suitable choice.
Logitech C920 vs. StreamCam
The StreamCam's USB Type-C means that it can deliver faster video transfer rates at a higher quality – 1080p at 60fps – while the C920 can only handle 30fps. Despite being much more compact than the C920, the StreamCam's image quality is incredibly smooth, with a wide F/2.0 aperture and a dependable face-tracking feature.
It also provides better audio because you get two options: the built-in mic in dual mono or stereo mode, a missing feature on the C920. Lastly, the StreamCam also features a noise reduction filter that can remove most background noises.
Logitech C920 vs. C920S Pro
While the C920 maintains its position as one of the most popular webcams available, Logitech's newer version might be a worthwhile upgrade. With the C920S Pro, you have the same audio and video quality as its predecessor, plus a much-needed privacy cover and less CPU power consumption.
One downside to the C920 is that it comes installed with a Logitech driver as its default, and you can't use more than one webcam on your computer with this driver. While there's technically a workaround to this issue, you can skip these extra steps if you get the C920S Pro.
The differences between the two models might be subtle, but overall, the C920S Pro is the better deal.
Logitech C920 vs. C922
With the C922, you'll get better video quality as it performs slightly better in low-light conditions. It can also handle a 720p resolution at 60fps, while the C920 can only get 30fps maximum on every setting.
Like the C920S Pro, you don't have to worry about tweaking the drivers if you want to use multiple webcams on your computer. Lastly, the C922 lets you incorporate 3rd party software to eliminate your background, but keep in mind that this feature is CPU intensive.
Logitech C920 vs. C922X
If you're considering the C922 as a potential buy, check out the C922X's specs as well. The latter is an Amazon-exclusive product that features a slightly different configuration. With the C922, you get a three-month XSplit license, while the C922X features a six-month license, but with no tripod. Both, however, are excellent choices if you want an improvement on the C920 for a slightly higher price point.
Like the C922, the C922X offers practically the same picture quality, a slight upgrade to the C920's. It also comes with the same capability of removing your background, which can be useful for streaming setups that don't have space for a green screen.
Logitech C920 vs. C930E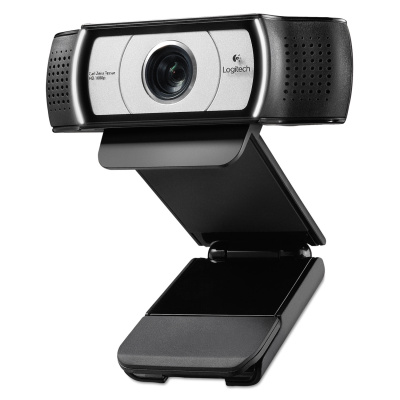 If you want overall better picture quality, the C930E is a solid choice. It can provide much more accurate color reproduction, and it performs better in low-light conditions. What's more, it's also packed with useful features like the 4X HD Digital Zoom. If you can spare a few extra bucks, the C930E might be the better investment.
So What's The Final Verdict?
The Logitech C920 is a top of the line webcam with a ton of great features and doesn't break the bank. No matter whether you're using it for Zoom business meetings, chatting with friends and family, or even starting a vlog, this webcam will cover all of your bases. If you have more questions about the C920 please feel free to reach out to our expert customer support team.