The Reviews Are In! Here Are Our Favorite Standing Desks For 2019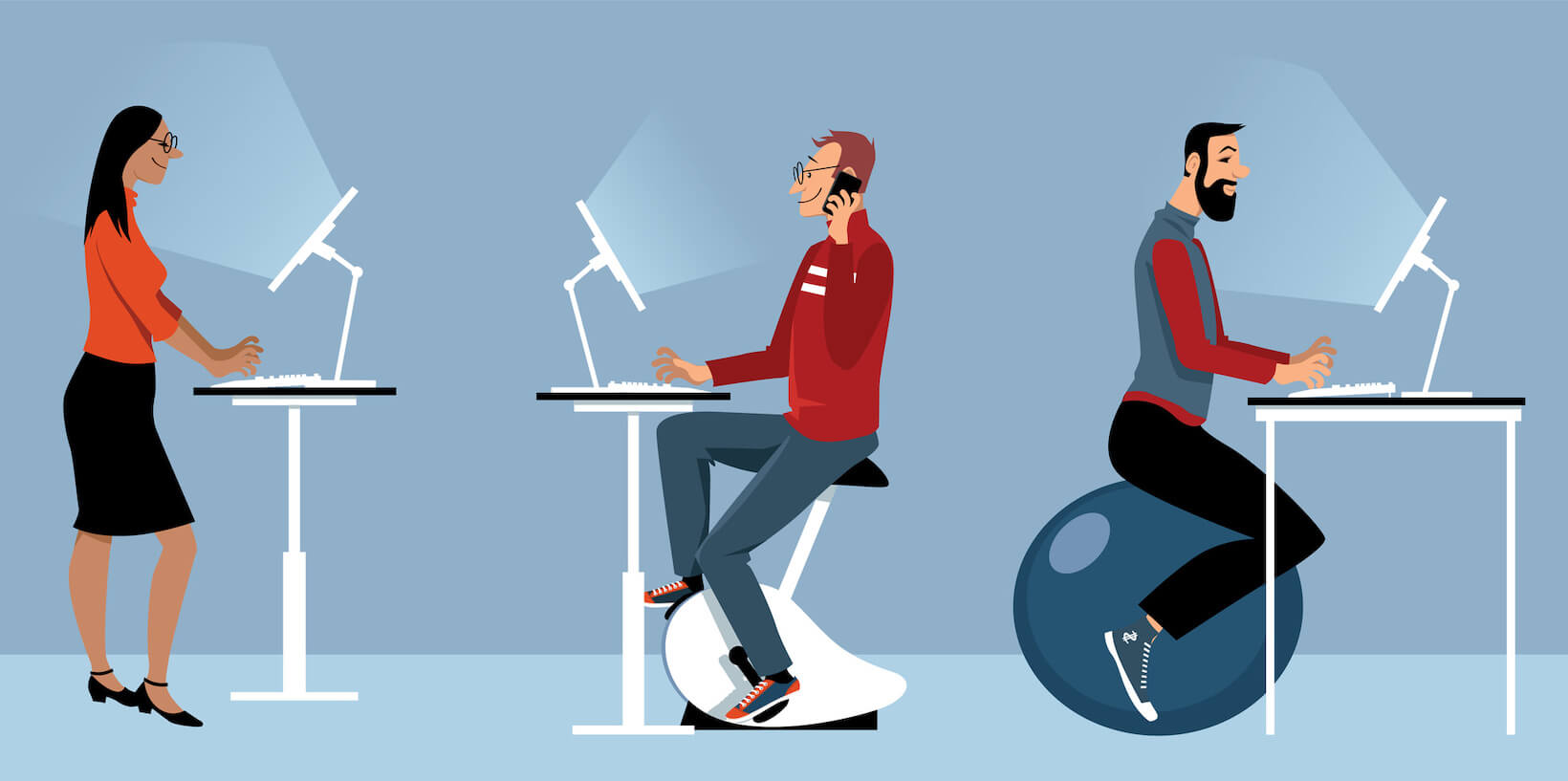 Here at SuperWarehouse.com, we're committed to bringing you the very best in office and business accessories, office supplies, and office furniture including standing desks.  We carry a wide range of standing desks including ergonomic standing desks, adjustable height desks, and even standing desks made of solid woods and reclaimed woods.
We've listened to you, we've analyzed the products ourselves, and the results are in. Here are our favorite standing desks for 2019!
Ergotron WorkFit D Sit-Stand Workstation
The Ergotron WorkFit D Sit-Stand Workstation is an ideal adjustable desk for any work environment. It offers substantial workspace and simple mechanical controls. Thanks to the Patented Constant Force technology incorporated into the setup, you'll be able to effortlessly lift and drop the desk by as much as 20 inches.
It's also designed to be super easy to use and install and it comes with full instructions that walk you through the simple setup process. The desk features an Ergotron LX LCD Arm that can be used as needed, and it's even pre-drilled to work with an Ergotron NeoFlex Underdesk Keyboard Arm.  It also has a nice laminate desktop that is easy to keep clean.
This workstation is ideal for anybody looking to upgrade their home office and install the product with great ease. It might also be a good option for offices looking to replace multiple desks at a time, thanks to the easy setup and additional features for mounting multiple screens, tablets, and keyboard accessories.
Victor High Rise Height Adjustable Standing Desk with Keyboard Tray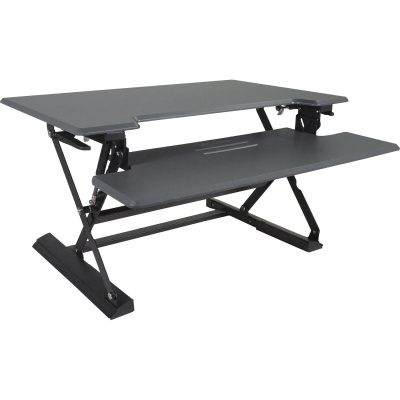 If you're looking to enjoy all the health benefits of a standing desk, while increasing the amount of usable space on your desk, then the Victor High Rise desk is ideal for you. The retractable keyboard tray comes out from underneath the desk, at 35 inches wide and 14 inches depth. The desk itself is 36 inches by 23 inches, giving you a huge amount of space to work with. Should you need to, you can also remove the keyboard and mouse tray.
Writing utensils, phones, and tablets can also easily be stored on the keyboard tray, keeping extra space free on your desk. There is a grommet hole at the back of the desk that accommodates a monitor mount.
The desk is height adjustable and uses a gas spring system. That means the transition between sit and stand options is smooth and easier. Just lightly squeeze the levers on the desk and you can move it up and down to the height that suits you best.
To top it all off, the desk is designed to be sleek and stylish, with a metal frame, sleek wood construction, and a white/gray color.
Victor High Rise Standing Desk Workstation
The Victor High Rise Standing Desk Workstation isn't your traditional standing desk. This is a workstation that can transform any regular sit-down desk into a modern and ergonomic sit-stand desk. This is effectively an accessory for your current desk, allowing you to raise your computer screen and keyboard up above your desk, without replacing your current setup completely.
This is ideal for anybody who already has a desk they love, or for an office that's looking to upgrade without completely replacing tens or even hundreds of desks in one go.
The unit offers adjustable desk height with the simple pull of a lever. It utilizes a gas strut desk that means you can effortlessly move your monitor and keyboard up and down. It even features a monitor holder that's height-adjustable, meaning your monitor will never have to gently or delicately balance on your desk. It's always solid and secure.
It's super modern looking, too. It's a black workstation made of high-quality wood, with a heavy steel base that prevents it from tipping over.
The surface is raised up to 15.5 inches for the perfect ergonomic placement of all your office accessories. The maximum depth is 23 inches and the maximum width is 28 inches, so you'll have plenty of room for all your things – all the space for writing, drawing, typing, and filing!
Victor High Rise Dual Monitor Standing Desk Workstation
If you're a heavy computer user, a video gamer, or a creator, then this is the standing desk workstation for you. The Victor High Rise Dual Monitor Standing Desk clears up your desk space and places the monitors above the desk. This means the monitors can perfectly meet your eye line and give you all the space you need to be creative or get organized on your workstation.
This DC350 model is an ideal solution to the problem of multiple monitors taking up all your space. Not only can you enjoy all the amazing health benefits of standing while working, but you can also maximize productivity.
This desk is ideal for students and creatives who want to maximize their productivity and completely transform their workspace. It offers a heavy steel base so you can rest assured it won't tip. It's also super stylish, made of great quality wood in a modern black design.
The gas strut also means that it's easy to adjust the desk to the ideal height for you with just the touch of a button.
Ergotron Learnfit SE Sit-Stand Desk
If you're looking for an easy, lightweight and versatile way to become a part of the standing desk community, then the Ergotron LearnFit SE Sit-Stand Desk is your perfect option. It's also an amazing option for people in the educational environment. This is a popular lightweight design that's also sought after by people who simply aren't sure whether they want to convert their whole desk just yet.
It's easy to move around the office or even the classroom, thanks to its wheels and lightweight design. It's also designed to be really durable, too – so if you need something that's going to be moved around a lot, this is your perfect option.
While designed to be smaller than other options, it still has a sizeable 24-inch width and 20.5-inch depth.
The PrecisionHeight technology means it's easy to adjust, and it also offers student-friendly features like a backpack hook, a cup holder, a tablet slot and an integrated tray for pencils and other tools.
WorkFit by Ergotron WorkFit TX Standing Desk Converter
Do you already have a great desk that you are not looking to replace, but you still want the ability to sit or stand while working? Good news, standing desk converters were created just for you.
One of our favorites is the WorkFit TX Standing Desk Converter by Ergotron. This standing desk converter features an X-shaped lift that can lower to be nearly flush with your desktop.
This desk features an adjustable, drop-down keyboard tray and a height-adjustable, back-tilt keyboard, that makes this one of our leading ergonomic workstations. The WorkFit TX has 17″ of vertical height adjustment, plus 3″ of keyboard adjustment. You can even personalize your WorkFit standing desk with multiple monitor riser locations and keyboard height and positions.
Buying The Right Standing Desk
So you know you want to buy a standing desk, now you just need to pick the right one for your office or work environment. There are a few things to consider before buying including the amount of space you have for a stand-up desk, your budget, and just how much standing you'll be doing during the work day.
If you are torn between a few different standing desk options, you can always give our experienced customer support team a call to help you with your decision.