Easy Disinfectants & Sanitizers You Can Make At Home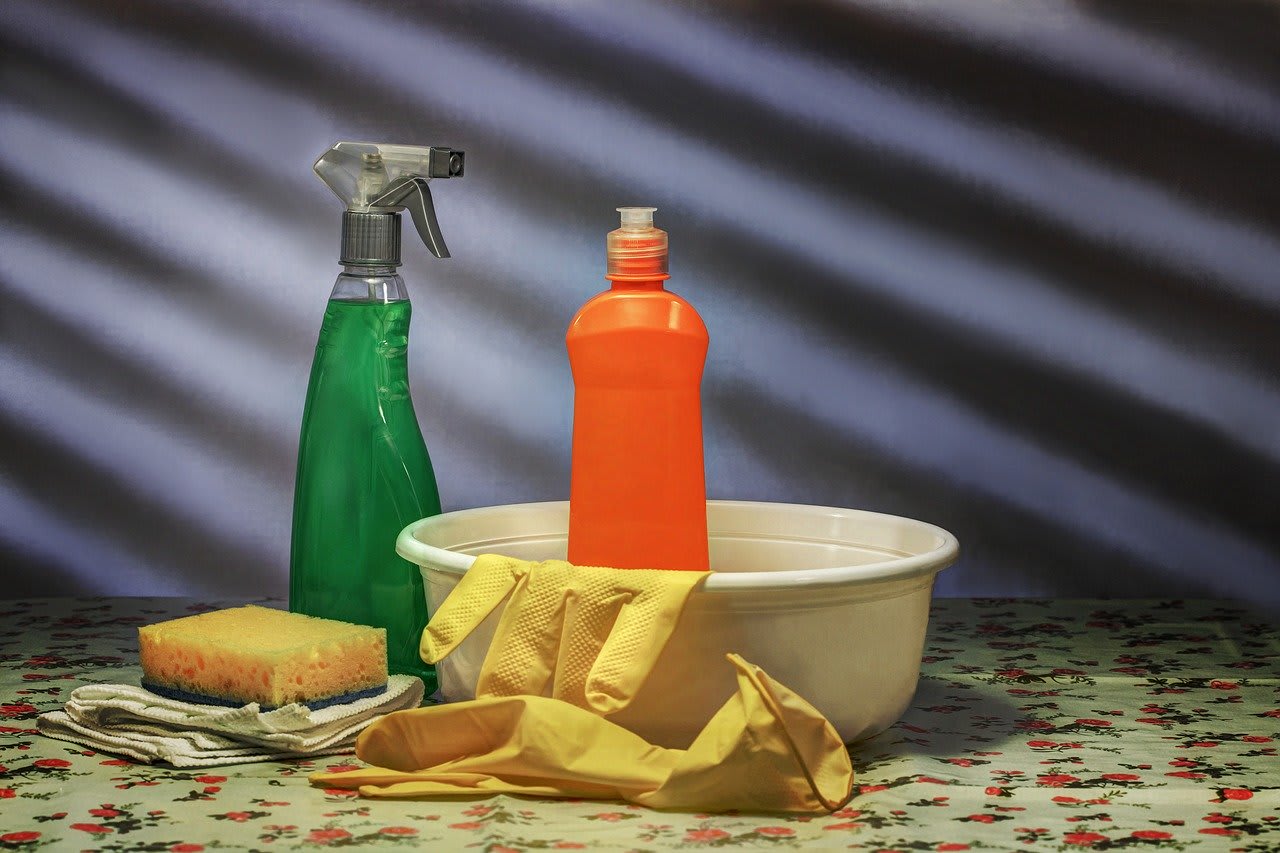 In the midst of an uncertain time, many of us want to regain as much control as we can. That includes keeping yourself and your family as safe as possible from surrounding germs. There are plenty of precautions to take, such as observing social distancing, wearing a mask, and avoiding contact with sick people; however, keeping your hands and your home clean and germ-free is a serious concern for most Americans. 
While the nationwide shortage of the Purell brand products continues until a further re-stocking, it's widely accepted that making your own hand and home disinfectant is just as effective at fighting germs – that is, as long as you follow certain guidelines and safety precautions. Here are some easy and effective DIY ideas for sanitizing your hands and your home. But first, let's talk about some benefits of making your own disinfectant products. 
Choose Your Own Ingredients
We obviously find ourselves in a time when making your own disinfectant is necessary; but even during the time of availability, commercial products come with their own set of issues. For one, they tend to have a number of difficult-to-pronounce chemicals that can be worrisome for those with skin sensitivities or conscientious about clean living. Making your own disinfectant puts you in charge of the ingredient list as well as their quality. Most of our recipes consist of a hand-full of easy-to-find ingredients that are perfectly effective and safe, as long as you follow the right measurements and take general precautions. 
Customized To Match Your Lifestyle
What kind of active (and inactive) ingredients you choose depends on your preference and comfort level. If, for example, you're conscious about using natural and safe products around your home, you will likely prefer a vinegar and water mixture to an option with a bleach solution. Likewise, many of the items we'll discuss can be customized to smell (more-or-less) like your favorite fragrance. Making your own sanitizers and disinfectants gives you the choice to use any essential oil you may like. We know that no amount of lemon essential oil drops will make vinegar smell great, but it can definitely help. 
Enjoy Unlimited Supply
As long as you can get your hands on the basic ingredients of a DIY disinfectant, you'll be able to recreate the products over and over without having to worry about supply. Many of the ingredients needed are easy enough to find online so you can do the whole process in the safety and comfort of your home. Not to mention, you don't have to pay for hiked-up prices and will probably save some dollars by making your own. 
1. Make Your Own Purell at Home
With the right ingredients, you can easily make your very own Purell in your very own home. While hand sanitizer won't kill all germs, it will decrease their number significantly in cases when you cannot get to a sink and soap. Here's what you're going to need: 
Tools: 
Mixing Bowl
Mixing Spoon (or your utensil of choice)
Funnel
Clean bottle with resalable lid or pump attachment
Ingredients
⅔ cup 99% isopropyl alcohol, 
⅓ cup aloe vera gel
Directions: Simply combine the ingredients together in a mixing bowl using a utensil and funnel the mixture into your bottle. You've got your very own hand sanitizer that's ready for use! 
Extra tip: Exposing your skin to alcohol – especially frequently – can cause irritation and dryness. Make sure to follow up using your hand sanitizer with a skin moisturizer to help give your hands some support and relief. 
2. Clean Surfaces With Bleach + Water 
The best way to protect your home (especially if anyone in the household is already sick) is to keep your surfaces clean and disinfected. A sure way to get your space germ-free is to clean it with a simple bleach and water mixture. The proportions should be: 1/3 cup bleach per 1 gallon of water, or 2 tablespoons bleach per 1 quart water. 
To use, you can pour the solution into a spray bottle and use it with a cleaning rag on all of your most-used areas. Make sure to clean off any visible dirt before sanitizing your surfaces. Also, to avoid direct contact with bleach or bleach mixture, make sure to use rubber gloves while cleaning. 
3. Make Your Own Lysol Disinfectant:
This natural disinfectant basically packs a 1-2 punch when it comes to fighting germs. While vinegar and alcohol both boast germ-killing properties on their own, they're even more lethal in this powerful combination. 
Tools: 
Large glass spray bottle (plastic can be broken down by the essential oils) 
Small glass bowl or jar
Ingredients: 
1 cup water
1 cup cleaning vinegar
2 tablespoons rubbing alcohol
20 drops essential oil of your choice 
Directions:
Combine water and vinegar in a glass bottle. Next, use a glass bowl or jar to mix rubbing alcohol, and essential oils. This will make the oils more easily dissolvable in the vinegar. Pour the alcohol and the essential oil you're using in your spray bottle and shake to mix. Your disinfecting spray is now ready to use!
Extra tip: Lemon, tea tree oil, or thieves oil work especially well with this recipe since they have disinfecting properties, but feel free to substitute any aroma you like!
4. Homemade Disinfecting Wipes
Are you having trouble buying disinfecting wipes online or at a store? You can still keep yourself and your family safe from germs by making your own at the comfort of your home. The most difficult part of this process is probably getting a big enough glass jar or container to hold your paper towels, although you can also separate and stack them for a more storage-friendly option. 
Tools: 
1 roll paper towels 
glass jar or sealable container for storage
large measuring cup or jar for mixing
spoon for mixing
Ingredients:
1 cup 70% or higher alcohol (such as isopropyl) 
1 tablespoon dish soap (such as dawn)
10 drops of disinfecting essential oil (such as thieves or tea tree oil) 
2 cup water 
Instructions:
Start by placing the paper towels in a glass container. In a separate measuring cup, use a spoon to mix the alcohol, dish soap, essential oil, and water, then pour the mixture over the paper towels. Seal the container and let the paper towels soak up the liquid for roughly 30 minutes before use. 
5. Reusable Disinfecting Wipes: 
If you're not into the idea of throwing away single-use disinfecting wipes, you also have the option to make them more durable. By replacing paper towels with cloth microfiber or any cleaning cloth material, you can enjoy the disinfecting properties minus the waste. Of course, this doesn't mean that you should use these wipes multiple times in a row. You will need to properly launder and re-soak the wipes in the disinfecting solution before using them again. Otherwise, the process is exactly the same:
Tools: 
5-10 clean cloth wipes or rags (such as microfiber)
glass jar or sealable container for storage
large measuring cup or jar for mixing
spoon for mixing
Ingredients:
1 cup 70% or higher alcohol (such as isopropyl) 
1 tablespoon dish soap (such as dawn)
10 drops of disinfecting essential oil (such as thieves or tea tree oil) 
2 cup water 
Instructions:
Place rolled-up towels in a glass container. In a separate measuring cup, use a spoon to mix the alcohol, dish soap, essential oil and water, and then pour the mixture over the wipes. Seal the container and let the cloth soak up the disinfecting liquid for roughly 30 minutes before use. 
6. Make Disinfecting Soaps
It's a well-known fact that hand sanitizers aren't enough to get your hands truly clean. To do this, you'll need to wash your hands properly and thoroughly with soap and water. If you're having a hard time finding antibacterial soap, don't worry – there's a straightforward way to make your own without having any previous soap-making experience. Here's what you'll need to get started: 
Tools: 
1 empty bottle or empty soap dispenser with pump attachment. 
Ingredients:
4 ounces liquid castile soap 
10 drops oregano essential oil 
10 drops tea tree essential oil 
10 drops orange essential oil 
Instructions: 
All you need to do to create your soap is mix the castile soap and essential oils in the dispenser of your choice. Secure the lid and shake well to mix. That's it! Your very own disinfecting soap is ready for use. Make sure you're washing your hands for the recommended 20 seconds. 
Extra tip: You can substitute these essential oils with those of your choice; however, make sure they have disinfecting properties such as thieves oil. 
We hope these DIY tips help keep you and your space free of germs during these trying times. Remember, for best results, use these disinfecting solutions on most-touched and used items around the house. While the kitchen and bathrooms are the obvious places to start, don't forget to think about light switches, doorknobs, remotes, and other frequently-used electronic devices such as cell phones, tablets, and computers. As we've already mentioned, hand sanitizer does not get rid of all germs on your hands, that's why it is so important to keep up with frequent hand washing and exercise all other precautions put forth by the CDC.