Comparing the Best Prebuilt Gaming PC Options
Building a gaming computer from scratch is a research- and labor-intensive process that not everyone is keen on doing. Why go into all that trouble when you can get a prebuilt unit with all the bells and whistles you want? With a pre-built gaming PC, you don't have to worry about accidentally buying incompatible components, installing them incorrectly, or making sure everything remains sufficiently cooled.
Whether you want a budget-friendly build or the most powerful machine on the market, there's a model for you out there. Need help with your search? You might find what you're looking for among our top five personal favorites!
Product Specs:
CPU: Intel Core i5 10400F
GPU: Nvidia GTX 1650
RAM: 8GB
Storage: 1TB M.2 PCIe SSD + 2TB SATA HDD
Who doesn't know about Alienware? It's a household name that's synonymous with high-quality components combined with sleek, uniquely-designed frames. While its higher-than-average pricing may be off-putting to some, you're essentially paying for the solid build quality, excellent 12-month warranty, and reliable customer service.
Their latest prebuilt offering – the Aurora R11 – features a similar design as the previous R9 with an updated range of graphics cards and processors. With this model, you can choose various configurations to get the right balance between price and power. Regardless of your CPU or GPU combination, Alienware's AIO cooling system will keep every component within safe temperature levels.
If you're an upgrade junky, you will appreciate the R11's convenient design that gives you access to every PC part without using tools. It also means that regular maintenance will be a breeze, despite having a smaller, more tightly-packed interior.
Lastly, the R11's aesthetic design is clean, simple, and modern – with Alienware's ominous logo at the forefront of the build. Overall, some prebuilt options might give you better value for the parts used, but the brand's ease-of-use and reliability may attract anyone who wants to skip all the fuss to get a quality system.
Notable Features:
Fairly compact
High customizability
Minimal bloatware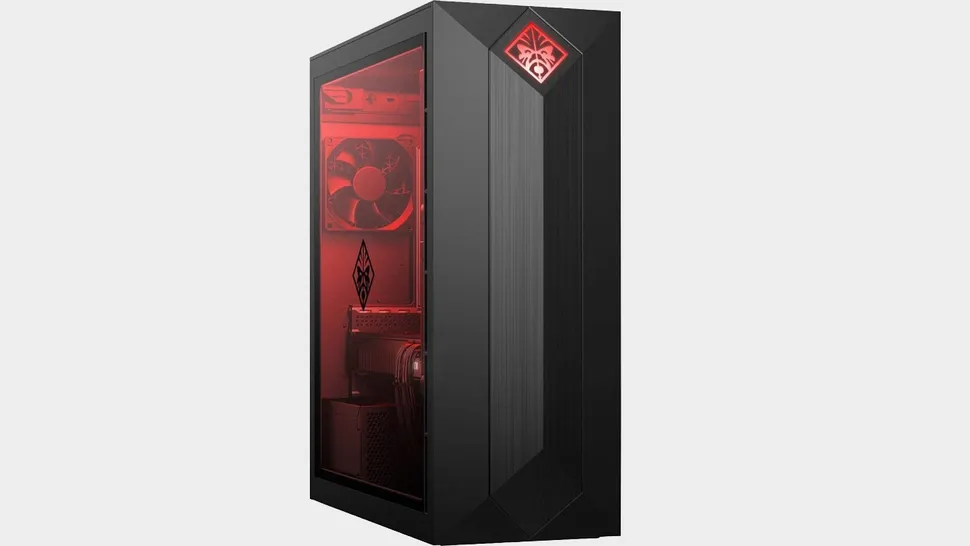 Product Specs:
CPU: Intel Core I7-9700
GPU: Nvidia RTX 2070
RAM: 16GB
Storage: 512 GB PCI-E NVME SSD M.2 and 1TB HDD
The Omen Obelisk is one of the best examples of why the Hewlett Packard brand has been around for so long. With highly customizable components that give you the best bang for your buck, there's a build for everybody.
Despite having high-end components with a lot of power, you don't have to spend over $2000 to get an Obelisk. HP maintains reasonable prices by skipping the unnecessary features and purely focusing on the essentials. So don't expect decked-out RGB lights or an elaborate cooling system.
The limited space might make it hard to upgrade in the future, but on the flip side, the Obelisk can easily fit into smaller setups, and it's less of a hassle to transport.
Notable Features:
High-quality components for a lower price
Compact build
Product Specs:
CPU: Intel Core i5 9400F
GPU: GeForce RTX2060
RAM: 16GB DDR4-2666 (2x8GB) SODIMMs
Storage: 1TB HDD and 240GB NVMe SSD M.2
The Zotac Mek Mini is proof that size doesn't necessarily equate to performance. Despite being the smallest gaming desktop on our list, this model can still meet the demands of the most graphically intensive titles.
With classy RGB lighting at the front of the unit and a clean, visually appealing design, the Mek Mini can fit into any setup, not just in terms of size but also in aesthetics. This prebuilt gaming PC also features two convenient programs – Firestorm and Spectra – that allow users to customize the lighting system and change the fan speeds.
However, the size comes with some drawbacks because you have to tinker around with it whenever a component needs upgrading. In fact, some parts – like the graphics card – require disassembling the whole build before you can get to them.
Notable Features:
Very compact design
Useful customization programs
Excellent port selection despite its size
Product Specs:
CPU: 3.20GHz Intel Core i5-8400
GPU: Nvidia GeForce GTX 1060
RAM: 16 Optane Memory and 8GB DDR4
Storage: 256GB SSD and 1TB HDD
If you're a gamer on a budget, the Acer Predator Orion might be the choice for you. It can satisfy the demands of most casual gamers who don't want – or need – the extra bells and whistles. It also doubles as an excellent desktop PC for general use. Thanks to its six-core chip, you can easily use this model for CPU-intensive tasks like photo or video editing.
The list of available graphics includes an Nvidia GTX 1050, 1060, 1070, and even higher-end variants like the RTX 2070. If you want a good balance of price and performance, we recommend the 1060, the most popular graphics card among Steam users. It provides a stable 60fps at 1080p resolution and impressive details for most modern titles.
We are pleased that the Orion has done away with the tacky red and black designs of previous Acer Predator products. The Orion 3000's look is tasteful yet contemporary enough to differentiate it from regular PCs. It sports a similar appearance as the latest Origin PC, which we also like.
Notable Features:
Multiple component options
Affordable
Excellent design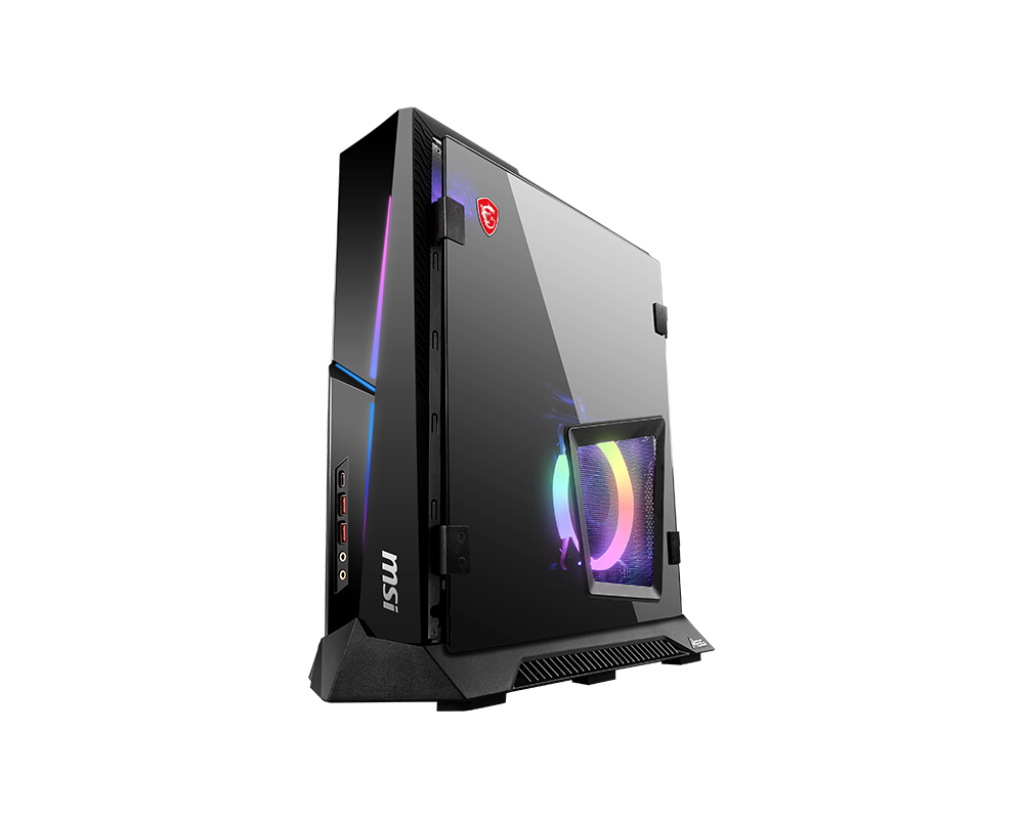 Product Specs:
CPU: Intel Core i9 10900K
GPU: Up to Nvidia GeForce RTX 2080 Ti
RAM: Up to 64 GB
Storage: Up to 1 TB SSD + 1 TB HDD
Want to go all out on a high-end model? Check out the MSI MEG Trident X. It's a small, beautifully angled machine that can easily fit any gaming layout. With several graphics card and memory options available, you can have a custom pc that works for the games you want to play.
The MSI MEG Trident only uses standardized parts, so you can upgrade every component to your liking if the need ever arises. You'll need a couple of tools to maneuver around some parts, but if you're comfortable working with a smaller chassis, you can easily make this build last a long time.
MSI tends to fill even its best offerings with copious amounts of software, and sadly, the MEG TRIDENT X is no exception. Some of them are useful, though. For instance, the Dragon Center works well for monitoring the performance of MSI gaming PCs. It features customizable RGB lighting and supported peripherals that let you choose from various monitor profiles and network priorities.
Keep in mind that any Trident X model will cost you a lot. You do get additional accessories like the MSI Vigor Gk30 keyboard and the MSI Clutch GM11 Mouse, which is always a plus. Despite its steeper price, the Meg Trident X is still one of the most functional and gorgeous prebuilt gaming PCs on the current market.
Notable Features:
Excellent performance
Quiet cooling despite the compact design
How to Choose the Best Gaming PC for You
Need help narrowing down your list of potential options? Be sure to keep these four factors in mind when picking a prebuilt gaming PC.
Pre-Built Gaming PC Compatibility
Even if you lucked out on a cheap prebuilt gaming PC with all the specs you want, what if it's not compatible with your current setup? You need to check all of the available ports and future-proof your system. Consider looking for models with USB-C or USB 3.1 Gen 2 ports.
You also need to account for the space of your setup. Bulky PC builds might look out of place in a smaller gaming corner. Or worse, they might not fit at all. So it's essential to strike the proper balance between size and upgradeability.
Upgradability
As game developers keep producing more and more graphically intensive titles each year, your system will need an upgrade eventually to keep up. You might want to replace your 1TB HDD with a 2TB HDD or some other component in the future. You'll also want to be able to expand your ram: 32gb might be overkill now, but as software improves you might find yourself wanting the ability to upgrade.
Some machines are easier to open and tinker with than others. For instance, the Alienware Aurora is perfect for less tech-savvy gamers, while smaller machines like the Zotac Mek Mini might be more challenging to work with.
Gaming PC Performance
A good prebuilt gaming PC should be able to give the experience you want. A solid baseline for today's modern titles would be an AMD Radeon RX 5600 or GeForce RTX 2060 coupled with a decent Intel Core i5 processor. However, if you want to go all out for a 1440p, Ultra settings-capable setup, consider going for an RTX 3080, RTX 3090, or an AMD Radeon VII.
Price
Everyone has a budget, and fortunately, you can find plenty of quality gaming PCs nowadays that cost as low as $700 to $1000. For this price range, you're looking at specs like Intel Core i3 to i5 processors, Nvidia GTX 1660 GPUs, and between 8GB to 16GB of ram.