The Best Logitech Webcam Models – Updated 2020
Laptop webcams might be good enough for the occasional video call, but if you work from home and heavily rely on Zoom and similar apps for web conferencing, you need a decent webcam with good video quality.
Logitech webcams offer a variety of options for video calls and web conferences. In this article, you will find an updated compilation of the best Logitech webcam models for the home office.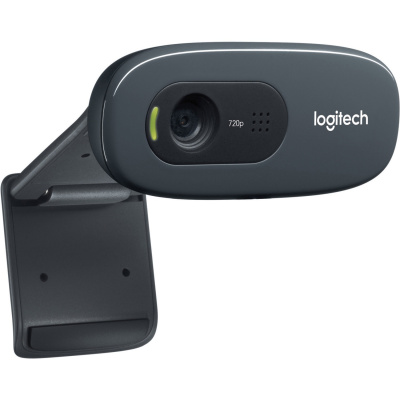 Logitech C270
Why choose this model: A solid, basic, budget-friendly option for video calling.
Good fit for: People looking for a basic and reliable webcam that will do the job.
Features: The Logitech C270 HD webcam model comes with automatic light correction for more lifelike colors and brighter, more contrasted images. It will give you smooth, nicely flowing 720p/30 fps conference calls with a 60-degree diagonal field of view. It is compatible with Skype, Zoom, and other popular video call apps.
C270 has a built-in, noise-reducing microphone that will enable your voice to sound clearly from a distance of up to 5 feet, even with background noise.
The model features an adjustable, easily removable universal clip that will make sure your camera is securely attached to the screen during the video call.
C270 is easy to install and use with most Windows operating systems. It is a compact, conveniently sized, unobtrusive model that is perfect for people who want a functional, no-frills webcam.
Logitech C922 Pro Stream
Why choose this model: Superior clarity, excellent streaming, and reliable no-drop audio are worth the extra price.
Good fit for: People who perform livestream broadcasts on platforms like YouTube and Twitch.
Features: When your videos go out to an audience, not any webcam will do. Logitech C922 Pro Stream users have the choice of broadcasting in Full HD 1080p at 30fps or extra-fast HD 720p at 60fps. This model comes with an autofocus feature and a 78-degree diagonal view. Whether you want to livestream or record your video, C922 will give you detailed, bright, and fluid results.
You can use the Capture option to create, customize, and edit your video content, add transitions and text overlays, and more.
This webcam's HD and autofocus capabilities fine-tune the image and give the user a superb, ultra-sharp, high-definition video.
The C922 model comes with two omni-directional mics for more realistic sound and a natural, clear-sounding voice. All of these features make C922 Pro Stream a major step up from the basic webcams.
Logitech C615
Why choose this model: Portable model with sharp-focus full HD video calls.
Good fit for: People who want a webcam with maximum flexibility and convenience.
Features: The Logitech C615  model will give you full HD, 1080p at 30 fps video with speedy, impeccable autofocus that will keep your image razor-sharp. The portable, foldable design makes it easy to remove and transport without damaging the lens.
Whether you use this camera for live calls or recording, the glass lens and full HD feature will provide beautiful definition and fluidity.
With the quick autofocus, you will always have a sharp video—even if you move around or come as close as 4 inches from the lens. With the C615, you can conveniently display small objects or documents during your live call.
Even if you are in a poorly lit setting, HD light correction fine-tunes your image and produces a brighter view.
This model includes a built-in, noise-reducing microphone for clear audio even in the presence of background noise.
The C615 comes with full 360-degree mobility so you can get precisely the video angle you want. This model's features make it perfect for portable offices.
Logitech C920 HD Pro
Why choose this model: Full HD 1080p, super-clear video with stereo audio.
Good fit for: People who want excellent video quality while working from home.
Features: With the Logitech C920 HD Pro model, you will get crisp, ultra-sharp Full HD video at 1080p/30fps or 720p/30fps. It comes with a five-element glass lens, a 78-degree field of view, automatic light correction, and dual microphones for excellent stereo quality. All of this will make you look and sound great during conference calls, with great definition and fluidity.
The two microphones are located on either side of the camera to capture a broad range of voice and make sure you always sound clear and natural.
With a width of 3.7 inches, this is not the most compact webcam model—but the great quality of video and sound makes up for the extra size.
This versatile model comes with an arm that attaches to the back of your monitor or laptop lid and a hinge to adjust the length of the arm. It mounts easily on both laptops and external displays. A built-in tripod enables you to attach this webcam to almost any stand.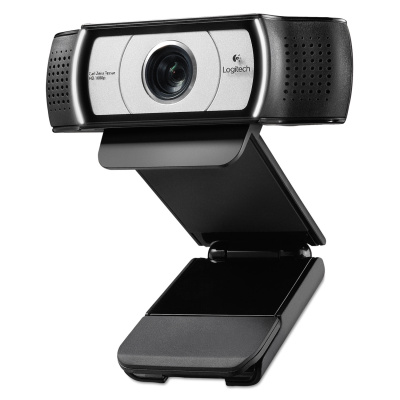 Logitech C930e
Why choose this model: Superb video and sound quality in any lighting or sound conditions.
Good fit for: People who are looking for an advanced business webcam and don't mind the higher price.
Features: The Logitech C930e is a sophisticated model that will deliver clear video and sound even if you are in a poorly lit, noisy room. It offers Full HD 1080p resolution, a 90-degree field of view, and H.264 video compression.
For a fully optimized, perfectly adjusted video, you can pan, tilt, and zoom up to 4x.
This model is fully compatible with Skype for Business, Microsoft Teams, and Cisco Jabber. It easily integrates with Broadsoft, BlueJeans, Vidyo, Zoom, and LifeSize Cloud. All of this makes the C930e a great business webcam. Video quality remains remarkably sharp even when bandwidth is limited.
You can mount this webcam anywhere, including laptops, desktop monitors, LCD screens, or your own tripod.
Logitech C310
Why choose this model: A sturdy design and sharp, fluid video in a widescreen format.
Good fit for: People who want a reliable, functional, and affordable webcam.
Features: The Logitech C310 is a trusty, basic model that will give you good video quality without breaking the bank. With the C310, you can enjoy HD 720p/30 fps video calls. The model features a 60-degree diagonal field of view and provides automatic light correction for optimal video quality. It is fully compatible with Skype, Zoom, and other popular video call platforms.
The built-in noise-reducing microphone will give your voice extra clarity during video calls, even when some background noise is present. An adjustable clip provides a firm, secure mounting as you attach the webcam to your laptop or desktop.
This model is easy and convenient to install and work with. It has a limited mobility range and does not move horizontally at all, but gives very fair value for its modest price.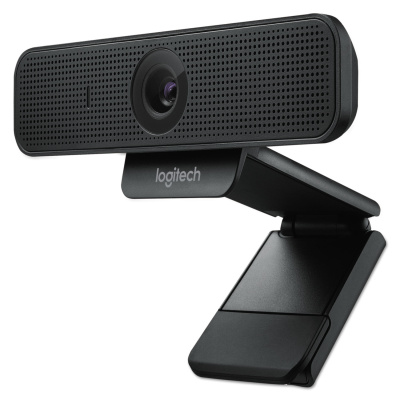 Logitech C925e
Why choose this model: An affordable and sturdy business webcam.
Good fit for: People who want high-quality business video calls for a reasonable price.
Features: The Logitech C925e model is easy to install, mount, and use. The adjustable clip fits laptops and external monitors alike, and a sliding shade gives you privacy when you need it.
This model is compatible with all popular web conferencing apps such as Zoom, Skype for Business, LifeSize Cloud, and more, so you can be sure that your video business calls will always run smoothly.
The C925e offers remarkably clear, Full 1080p HD at 30fps video. It features a 78-degree field of view and RightLight technology that delivers improved video quality even in poorly lit settings. Two omni-directional microphones offer optimized sound quality.
This model supports H.264 with scalable video coding to reduce dependence on your computer and network. Overall, this is a great choice for people who rely on web conferencing for much of their business communication and want sharp, reliable video with no glitches.
Logitech BRIO
Why choose this model: Technologically advanced, professional-quality webcam.
Good fit for: People who want stellar video quality for streaming or recording—and are willing to pay for it.
Features: Logitech BRIO is the Mercedez-Benz of webcams. It provides superb video quality for video calls and conferences, ultra-smooth streaming, and recording. This model features a premier 4K ultra-high-definition camera, high frame rates, 5x digital zoom, and incomparable low-light performance with the most advanced RightLight technology.
With 1080p HD at 30 or 60 fps, your video will always be razor-sharp and crystal-clear, and software like Camera for Windows 10 or XSplit Broadcaster will enable you to record in 4K resolution. Dual omnidirectional mics give you excellent sound quality and noise cancellation.
BRIO features speedy, reliable facial recognition for Windows Hello—log in simply by looking into the lens. It comes with an adjustable field of view for the perfect shot, full compatibility with business conferencing apps like Skype for Business and Microsoft Teams, and secure, versatile mounting options that fit any screen or tripod.
Our Take On The Best Logitech Webcams
Logitech offers a wide array of webcam options, from the most basic and functional models to sophisticated business webcams with advanced features and top-tier technology. Whether you just need a sturdy, affordable webcam that will do the job or are ready to invest in a more advanced and expensive model for superior performance, one of these Logitech models is sure to give you everything you need.