Best Carpet Cleaner Options For 2021
Carpets are magnets for all sorts of dirt and dust. Unlike wooden or tile floors, you can't simply sweep your carpet and hope for the best. The only way to get a clean carpet is to use the best carpet cleaner product.
The best home carpet cleaner depends on your needs and preferences. Some people like using their vacuum cleaner, while others prefer using solutions, sprays, and other products for extra cleaning power.
If you want the best carpet cleaner for pet stains, you'll need a chemical cleaner containing urine-destroying enzymes to completely eliminate the residual smell. Several vacuum cleaners have special pet-hair attachments, putting them in the running for the best carpet cleaner for pets.

(Pictured: Hoover FH50150 Power Scrub Deluxe)
The Power Scrub Deluxe is a powerhouse that will bring your carpet cleaning skills to a new level. It features a dual tank system that separates clean and dirty water, as well as automatic detergent mixing for optimal cleaning results.
One of the most annoying things about cleaning your carpet is waiting for it to dry. The Hoover Power Scrub Deluxe has heated drying that applies direct heat on the carpet while you're cleaning, dramatically speeding up drying time.
The machine also comes with several attachments that make reaching stairs and other difficult-to-clean areas easy and convenient. The entire machine weighs just 19 pounds, making it easy to carry around the home.
Pros:
Automatic detergent mixing
Easy to fill, empty, and clean thanks to the dual tank system
Heated drying nozzle
Spinscrub brush system for safe deep cleaning
Cons:
Relatively small tank size
Best Carpet Cleaner Solution for Pets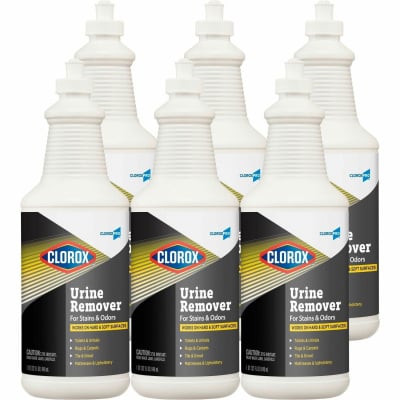 WD-40 Spot Shot Professional Instant Carpet Stain Remover is an industrial-strength carpet cleaner is extremely popular in the tourist industry, in hotels, and in long-term facilities, but its cleaning power makes it ideal for cleaning up after pets and their accidents as well.
We like this product because it's suitable for porous and soft surfaces, as well as tiles, ceramic, and concrete. Despite containing hydrogen peroxide, the cleaner is gentle enough to use on mattresses and carpets but will still clean up stains and any traces of accidents your pets may have left behind.
Pros:
Industrial-strength cleaning power
Suitable for carpets as well as hard surfaces
Excellent value for money
Cons:
Contains hydrogen peroxide
Best Spot Carpet Cleaner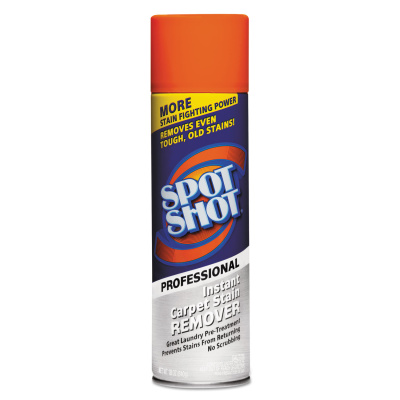 It's incredibly challenging to find a product that is gentle enough to use on your carpets while still being powerful enough to remove stains. The WD-40 Spot Shot stain remover is strong enough to handle any stain, including new and old grease stains, blood, makeup, soda, wine, and even ink.
The Spot Shot stain remover is also very easy to use with no need for scrubbing or vacuuming. All you need to do is spray and blot with some kitchen paper, and the stain will disappear.
Overall, we think this is the best carpet cleaner spray you can use. The spray has a light floral scent with no harsh odors, effectively removes even the most stubborn stain, and even neutralizes odors. It's an excellent multi-purpose carpet cleaner you should always have in your home.
Pros:
Easy to use
A lightly scented formula that neutralizes odors
Effective at removing water- and oil-based stains
Has a Seal of Approval from the Carpet and Rug Institute
Cons:
Aerosol can stop working before it's empty
Best Carpet Steam Cleaner
Despite being a commercial product, the Hoover SteamVac carpet cleaner is the best home carpet steam cleaner you can buy. There's no faucet hook-up required; all you need is some hot tap water and cleaning solution, and you're ready to clean.
In addition to being an effective steam cleaner, this Hoover also has plenty of extra features that make it easy to use. There are two brush speeds, automatic carpet height adjustment, see-through tanks, and a manual dispenser control.
The Hoover even looks good, sporting clean, sleek lines that will look modern for years to come. The machine comes in several color combinations, allowing you to add a bit of personalization to your steam cleaner. It's easy to carry and has a convenient foot on-off switch.
Pros:
Commercial strength makes it excellent for home use
Many convenient features
Don't need a faucet hook-up
Cons:
No faster drying function
Best Carpet Cleaner Shampoo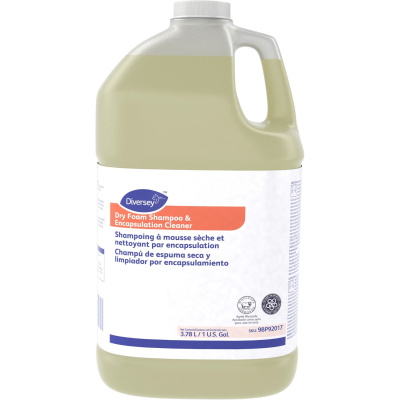 Carpet shampoos are some of the most convenient products on the market and make the best carpet cleaner solution to use on stubborn stains. The Diversey Dry Foam Shampoo and Cleaner uses a high-tech mix of detergents and solvents to remove even deeply embedded stains with ease.
The shampoo dries within 30 minutes of application into a clear powder that you can vacuum away, along with the stubborn stains. Unlike many other competitors, the Diversey cleaner doesn't leave behind a tacky residue and instead leaves your carpet looking fresh and clean.
Pros:
Quick-drying formula
Dries into a clear, non-tacky powder
Simple to use
Pleasant floral scent
Cons:
Requires you to have a vacuum cleaner
Best Portable Carpet Cleaner

(Pictured: Bissel Little Green Portable Spot and Stain Cleaner )
The best home carpet cleaning machine doesn't have to be massive, make a lot of noise, or weigh a ton. The Bissel Little Green portable cleaner is compact and perfect for apartments, car interiors, and furniture upholstery.
While you may struggle cleaning large carpets with this machine, it's good enough for most small jobs when dragging out your Hoover would be overkill. Despite its small size, the Bissel can hold 48 ounces of water, which is more than enough for several spot cleans.
The Bissel also comes with a tough stain tool and cleaning formula specifically designed to target hard-to-reach areas with stubborn stains. If you don't have large carpet areas to clean regularly, the Bissel Little Green is powerful enough to handle any small jobs you throw at it.
Pros:
Portable, making it easy to use and to store
Perfect for small upholstered or carpeted surfaces
Adorable styling
Powerful suction makes it more effective than spot cleaners
Cons:
Have to empty the dirty water tank after every clean
Buying The Best Carpet Cleaner For Your Needs
SuperWarehouse.com carries a huge variety of carpet cleaner options. Whether you need spray-on carpet cleaners, carpet shampoo, or even industrial-strength carpet cleaners, we are sure to carry the best carpet cleaner option for your needs. Can't find what you're looking for? Contact one of our helpful customer support team members for assistance in choosing the carpet cleaner that works for you.